Peru Political Violence
Event: Peru Political Violence
Date: Ongoing
Location: Peru
Risks: Political, Public Safety
Summary:
-Presidential Turmoil-
On 7 December 2022 Peruvian President Pedro Castillo attempted to dissolve congress and rule by decree, declaring a nationwide state of emergency. He was immediately impeached by congress, with the armed forces and police making official statements that they backed the constitution, effectively deterring any belief that they would support Castillo's attempt to suspend the current government. The crisis followed two impeachment votes that had failed, but the result of the emergency session of congress forced Castillo to seek asylum with the Mexican diplomatic mission, but he was detained enroute and remains in custody.
-The Vice President Takes Over and Civil Unrest Ensues –
Presidential authority passed to Vice President Dina Boluarte who was taken by surprise by the President's declaration and disavowed any part in his plans. However, her administration has been challenged by civil unrest fomented by supporters of Castillo and even by those who don't support him but are weary of politics as usual, government corruption, and extreme social stratification that reduces or redirects resources and infrastructure for the public. Protests and violent clashes with authorities have taken places in several regions, resulting in almost 50 deaths as of January 20th.  Blockades and checkpoints have limited access to goods and services in remote towns as supplies dwindle and prices double in some places, causing further anti-government sentiment as vulnerable populations continue to be the most affected by supply chain disruptions
-State of Emergency-
On 14 January Boluarte declared a 30-day state of emergency in response to unrest in the country, which increased public outcries for her resignation and even more extreme demands to dissolve congress as Castillo had planned. Despite Boluarte seeking early elections (in 2024) approval of Boluartes government as a whole is extremely low at around 30%, while over 50% of Peruvians polled believe that authorities have responded harshly to protests, many viewing the response and even the ousting of Castillo as the 'oligarchy' of the country exerting power over poor and indigenous populations, who were the main body of Castillo's voters hoping he would bring change to what they see as a disinterested and corrupt government.
Impact:
-Likelihood of Escalation-
So far it seems likely that protests will continue and may escalate substantially over the coming months. Congress and the current president are holding firm in their positions and policy advocacy; supporting early elections being one of the only concessions they are making in the face of public sentiment and response to their handling of the crisis. The death toll has also been a rallying point for disparate organizations and populations, who now believe they have a converging interest in changing the current government or fomenting opposition. In past crisis citizens have blocked roads and even committed acts of arson during protests whether security force actions prompted escalations or were escalated in kind.
-Effects on Business Travel-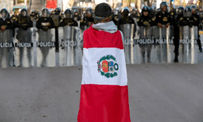 Similar to concurrent unrest in Brazil, another example of a regional increase in political and travel risk, in a best-case scenario in the near term, roadblocks and protests will be an inconvenience that security planners will need to account for when making arrangements for personnel working in or visiting Peru. However, given past trends in the country and the acuteness of the current crisis organizations doing business in the country should consider it a high security risk for any personnel, local or visiting, for the foreseeable future. And while little to no reports exist of any current or former local criminal and terrorist organizations taking advantage of or directly encouraging the country's civil unrest, security planners or organizational contract firms should be on the lookout for any reports or intelligence that could indicate a resurgence of activity. Peru suffered over a decade of civil war, terrorism, and government violence through the 1990s, with some insurgent elements surviving to this day, sometimes in business with drug trafficking organizations.
Recommendations:
To date, Black Mountain Solutions has supported its various clients with the extractions and evacuations of over 30+ staff/travelers from several locations inside Peru including Cuzco, Lima & Arequipa.
Black Mountain Solutions can provide the following:
Local Bilingual Security coordinator
Security trained drivers
Security VIP Executive Protection Agents
Vehicles (both armored & conventional)